Promote your Company with a Savvy Business Calendar
News and Media
Industry news.
Promote your Company with a Savvy Business Calendar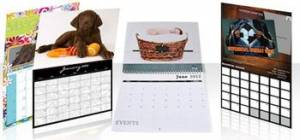 For an entire year, Business Calendars will effortlessly advertise your business! What better promotional tool can you think of that will surely be seen every day? Most people typically use pre-printed calendars with stock photos then add your contact details and company logo onto a flap at the bottom of the calendar. But a better way to go would be to organize a fully-customized business calendar - a far better print promotional tool. This way you can customize every part of the calendar including the photos, descriptions, covers etc.
Business Calendars - Order Online!
Take full advantage by promoting your business on all available space in your calendar. You can even come up with creative ways to remind your customers to check in with you. Maybe even print discounts (with promotional codes) on certain days of the month leading up to holidays to encourage more business. Here are some more imaginative ways to customize your business calendar:
• Select photos that display your employees. A calendar that tells a story about your company highlighting the personality of your employees will hold much more genuine appeal for your customers than a generic calendar.

• Reward your top customers by advertising their business for one of the months- eventually other customers may even try to compete to make it onto your calendar!

• Draw attention to local scenery or local events making your business calendar more appealing to a wider base of consumers. Maybe even hold a photo contest with your customers and local community then publish the winners in the calendar.
• Daily text can be used to promote seasonal sales, special events, annual meetings, or other specific events related to your company.

• Utilize the extra page at the end to present promotional material, reviews of your products, or even a sincere message from the company to the community.

• Use any empty space (i.e. beginning or end of the month) to include helpful tips related to your products or services - lure & tempt consumers to seek out your business! Or add positive reinforcement quotes encouraging happiness & productivity. Great give-aways for your staff!

• Alternatively you can make the calendar fun by including humorous quotations or entertaining trivia so that customers desire to have your calendar year after year. What a lovely Christmas gift!
With just a little creativity, you can make your own customized business calendar that your customers enjoy and look forward to on a daily & yearly basis. Business Calendars can help make you and your business more appealing and thus successful.
Order Business Calendars today at AbsoluteColor.com!
Related Posts